Various Treatment Approaches

Manual Therapy
An approach utilizing skilled, specific hands-on
techniques, including but not limited to
manipulation/mobilization, used by the physical
therapist to diagnose and treat soft tissues and
joint structures for the purpose of decreasing
pain and increasing range of motion.

Customized exercise programs
core strengthening
balance training
fall prevention
stretching

Education
injury care and prevention
how to maintain proper balance as we age

Electro stimulation
Sends electrical signals to underlying nerves to
relieve a wide range of chronic and acute pain.

Laser therapy
The light energy is absorbed and converted to
biochemical energy, which stimulates the cells.
Low-level laser therapy is believed to speed
healing and reduce pain and inflammation.
There are no known side effects to low-level
laser therapy.

Spinal decompression therapy
The use of a mechanical traction device applied
through an on-board computer that controls the
force and angle of disc distraction.

Ultrasound therapy
Uses high-energy sound waves (those above the
range we hear) to help ease painful joints and
muscles.


How we help you.
Every patient receives an evaluation to determine the correct personalized treatment for their specific needs. The Physical Therapist will work with you and your physician to best determine treatment course. At times, multiple approaches and treatment sessions may be necessary to get you feeling your best. Your personal Physical Therapist will review the findings and recommendations with you.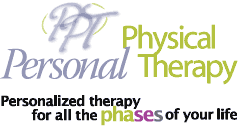 Common treatments we provide.
.
.
.
.
.
.
.
.
.
.
.
.
.
.
.
.
.
.
.
.
.
.
.
.
.
.
.
.
.
.
.



221 Boston Post Road East
Suite 270
Marlborough, Massachusetts
Phone:
508-481-5519
FAX:
508-481-6106
Email:
admin@personalphysicaltherapy.com
Web:
www.personalphysicaltherapy.com
For in-depth helpful information, please click on the interactive dots above.